Although my time in Chiang Mai was cut short, I did get to experience a bit of the city before leaving and it really is an awesome city. Chiang Mai is much larger than I was expecting, and quite clean. The first thing I noticed was that the driving is MUCH more orderly than in Bali; there are traffic lights, lanes, signs and crosswalks. There are a lot of scooters but also a lot of cars as well. They still drive a bit crazier than what I'm used to in America, but I felt much safer than I did in Bali or India. Although I will say it is still quite dangerous being a pedestrian; sidewalks are often blocked, sometimes by parked cars or scooters, and traffic does NOT yield to pedestrians.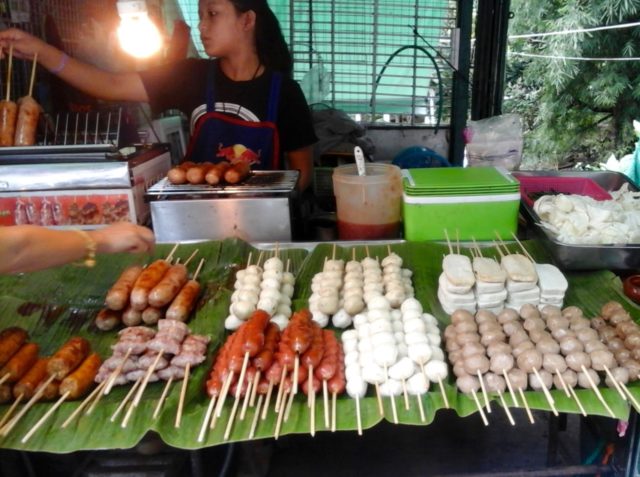 Restaurants, street food, massage parlors and markets are plentiful in Chiang Mai. There seems to be a market on every major city block, with vendors selling everything you could possibly think of from clothing to trinkets to food. The food is delicious, quite spicy and very cheap. Most of the meals I ate ranged from $1.50 to $3 USD. I didn't eat much street food but I did try quite a few new things. Most of which I liked, but there were a few dishes that I wasn't crazy about…some of the spices were a bit strange. I had a papaya salad one day that was absolutely delicious but quite possibly the spiciest thing I've eaten in my life. It was close to impossible to eat vegetarian, almost everything has meat or fish in it. I found a tofu dish one day that I was excited about but when it came out it had sausage crumbles on it. There isn't a lot of diversity in food types and I found myself quickly getting tired of eating Thai food for every meal and craving something different. We did go out for burgers one night and there were some options for western foods if you looked for them. Chiang Mai also has a very active nightlife…tons of bars, karaoke and live music throughout the city.
When I first arrived in Chiang Mai before going to the Vipassana course in Lamphun, I stayed three nights at a hotel called Eco Resort, which was absolutely beautiful. It was a little tropical paradise with beautiful vegetation and a gorgeous pool. I had originally reserved a bunk bed in a shared room but I got lucky and ended up in a room with two twin beds but no roommate. After staying in a shared dorm in Bali for two weeks, I was extremely grateful to have my own space. I spent those first couple of days getting oriented to the country. Thailand is quite different than any other country I have visited. Not nearly as many people speak English, and the ones who do don't speak it very well. On my first day, I decided to venture out to get a SIM card for my phone and that was quite a humbling experience. There are 7-11 stores everywhere that sell SIM cards, but many different types. I even did research before heading out to buy it but was still completely lost and confused about what to buy.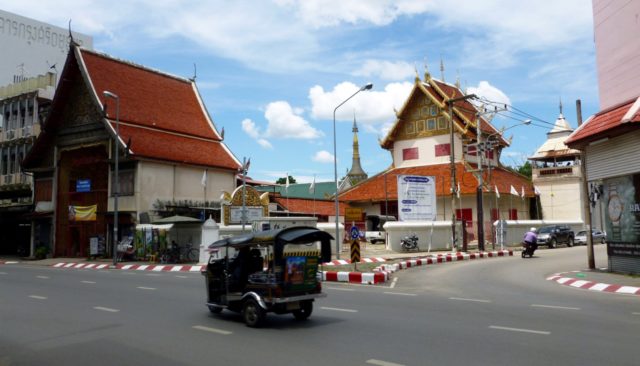 After studying my options for about 10 minutes, almost all of which had only Thai writing on them, I finally asked the clerk for help. He spoke very little English but the two of us fumbled together to figure it out and I got my SIM card for internet and phone service. I headed back to my room to get it installed and activated on my phone and worked on it for a couple hours but couldn't get it to work. I kept getting text messages in Thai and when I called the helpline, it was also in Thai. I finally found an English speaking person online on the carrier's website and he walked me through a few processes that still didn't get it working. I ended up having to go to one of the carrier's stores which luckily was in a supermall that was only about a 20-minute walk from my hotel. Aside from crossing probably the scariest street I have ever crossed, I was able to get to the store easily and they fixed it in just a few minutes. I spent the next day walking around the city a bit, dropped off my laundry, got a $6 pedicure and had some delicious meals. Depending on where I ate, ordering food was also quite a challenge because of the language barrier. I would often just point, not really knowing what I was getting.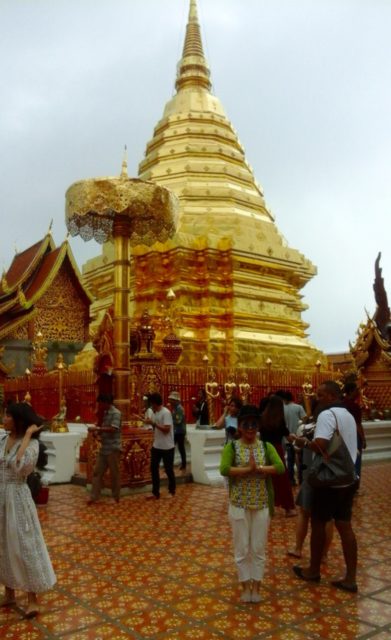 After the Vipassana course, I spent another week in Chiang Mai in a different part of the city. Most of the week was consumed by my first week of TEFL training, but I was able to explore quite a few things on my last weekend before leaving. Myself and a couple of the girls from the training had a "girl's day" and went to a yoga class, and got Thai massages, manicures and pedicures. The yoga class was interesting; the teacher was upbeat and outgoing, but difficult to understand and quite forceful with some of her cues and adjustments. This was my first experience getting a Thai massage and it was also an interesting experience. They have you on a thin mattress on the floor because they are pretty much climbing all over you. Luckily I had a small younger girl, so I don't think she was quite as forceful, but there were definitely a few painful moments. Overall though, a really wonderful and relaxing experience and only $6 for a full hour. The manicures and pedicures are also very cheap but not nearly as good as the ones in the US, no massage or any of the other extras I am accustomed to…mostly just nail clipping, cleaning and polishing. We explored the Chiang Mai Night Bazaar that evening which was enormous, and I was able to work on my bargaining skills which have never been very good.
On my last day, I joined the group for a hike up to Doi Suthep, a beautiful golden temple in Chiang Mai. The hike was much harder than I had anticipated because of the humidity and thickness in the air. About halfway through, we came to a smaller temple/meditation retreat where monks were living. After we passed the retreat, we came to a road and a couple of us ended up hopping in the back of a truck for the rest of the way. The temple was gorgeous but also packed with tourists. There of course was a market and a bunch of street food and restaurants outside where we had a delicious meal and fresh fruit smoothies before heading back down to our hotel.
Chiang Mai is a fun city to visit and I will definitely be back for a proper visit when the time is right. The Thai people are extremely sweet and polite and the energy is joyful and light. There are many places in Thailand that I still want to visit and I know I will be seeing this magical country again, hopefully sooner than later.