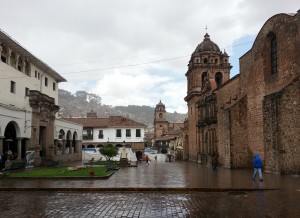 Cusco (pronounced "Costco" we later learned) was by far a more authentic experience than Lima, although still very touristy because of Machu Picchu and the Sacred Valley. Luckily we weren't there during the high tourist season which is December through March and is apparently already completely booked up. Cusco is a lot larger than I anticipated, home to around 435,000 people within the city of Cusco, and over 1 million including the surrounding towns. The houses line the mountainsides and are essentially stacked upon one another. The streets are filled with people at all times of the day and they don't have the luxury of personal space that we have in the states. The drivers are very aggressive and there doesn't seem to be many enforced traffic laws. Crossing the streets is like playing a game of Frogger; I thought I was going to get run down several times. Interestingly they seem to make it work and are able to maneuver around each other. So far in my overseas travels I have yet to see a traffic accident.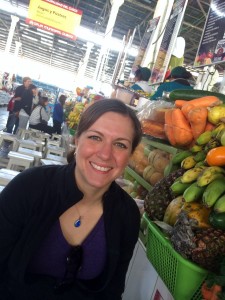 The streets of Cusco are lined with markets and shops. Our favorite market was Mercado Central de San Pedro, a huge open air market in the center of town. It is split into tiny booths that are filled with everything you could imagine from purses, blankets and clothing to fruits, cheeses, breads and raw meats. There is an entire raw meat section with every part of the animals on display. About half of the market consists of hot food booths where many of the locals dine. The food there is very cheap and seemed to be authentic Peruvian food. I did get sick during my time in Cusco and I suspect it was from freshly juiced carrot juice I got at the market. The cooked food seems mostly safe but the raw fruits and vegetables (especially those without skins) can be very dangerous for those of us not used to the food and bacterias there.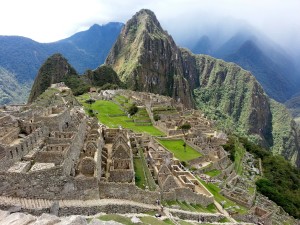 One of the highlights of the trip was of course seeing the legendary Machu Picchu. Unfortunately that was the day I started feeling sick and it ended up being about a 14-hour day. The train ride to Agua Caliente, the town at the base of Machu Picchu is about three hours there and four hours back. We then had to take a bus to the ruins up a narrow windy mountain road with huge drop-offs and no guardrail that the busses seemed to just fly up and down. The views were stunning and breathtaking and the energy was magical. We heard from another American couple that sadly the ruins are eroding and being destroyed by negligent tourists and eventually Machu Picchu will no longer be a site that the public will be able to enjoy so I'm grateful I was able to check that one off the bucket list.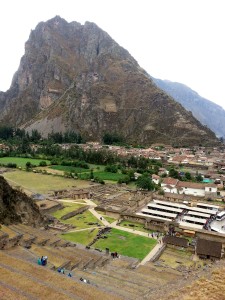 The next day we were supposed to go on a guided tour of the Sacred Valley, but had to reschedule it because I woke up extremely sick. I think I may have had a touch of altitude sickness in addition to food poisoning – Cusco is at an altitude of about 11,200 feet. My body ached so badly that it hurt to even touch my skin with lotion and clothing. Luckily the hotel had oxygen tanks and that seemed to help the body aches and some of the nausea. Being sick in another country is certainly not an experience I'd wish on anyone – be very, very careful what you eat and drink.
Luckily the next day I was well enough to tour the Sacred Valley, which included a few of the smaller, more rural areas surrounding Cusco and Machu Picchu. This was one of the more impressive and authentic experiences of the entire trip. It's incredible and very humbling to see the way people still live in other countries; how hard they work, how little they have, and how little they know of the lifestyles we live and take for granted. Definitely makes me grateful for the privileges we have living in our country and culture.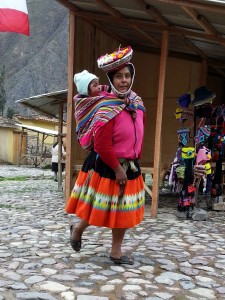 Apparently over 3000 different types of potatoes are grown in Peru. Alpaca meat and Guinea Pig are served at basically every restaurant. I tried Alpaca meat, which tasted a lot like steak, but without the cholesterol. I wanted to try the Guinea Pig but after getting sick I couldn't bring myself to do it, especially since they are served in their original shape with their heads, feet and claws still attached. The trout there is also very good and is fresh to the region. The avocados are delicious, probably the best I've ever tasted.
Cusco is worth seeing for the beautiful sites of Machu Picchu and the Sacred Valley, however, it is very touristy and somewhat pricey to see the sites. I am reminded every time I travel to touristy places that this is not the way I like to travel. I would rather be immersed in the culture amongst the locals than to vacation to a touristy area. Overall though it was a humbling experience that I am appreciative to have had the privilege of having.