I am often approached by current yoga teachers or students interested in teacher training about whether I would recommend doing yoga teacher training in India based on my experience.
A couple of things drew me to India to do my 200-hour teacher training. When I began considering teacher training and researching options around Denver, I was working a 9-5 day-job. Most of the training options I found would have consumed my evenings and/or weekends for many months at a time. I couldn't bring myself to do this because I knew I would just be going through the motions and I wanted to really absorb every bit of the information and be fully present with the experience. I decided that it would be best for me to take a month off work and do an intensive so that I could fully focus my energy. The idea came to me to go to India since I was already taking a month off work, why not go to the source?! After some research I found that the cost of the flight and the training in India combined was about the same as the training would cost me in Denver. And well, the rest is history.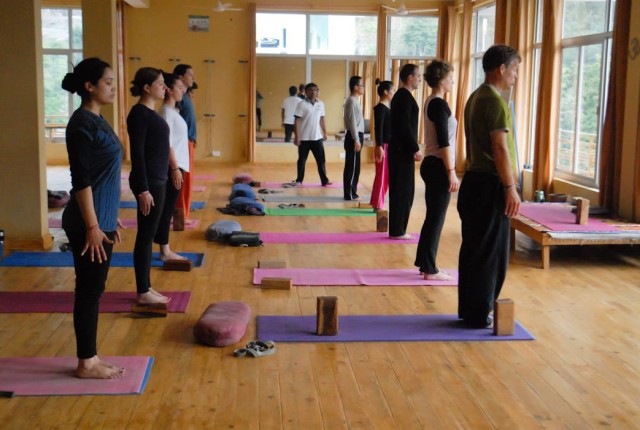 I wouldn't trade my experience in India for anything. It was incredible and transformational. Being able to wake up each morning and live yoga all day from the 6am pranayama and meditation sessions to the ayurvedic meals and daily mantra chanting. The opportunity to spend our off days exploring Rishikesh, the birthplace of yoga was an unforgettable experience.
There were, however some things to be aware of when considering doing a teacher training in India. Firstly, the way yoga is taught in India is very different than in the U.S. It is highly focused on alignment, pranayama, meditation and mantra and can be somewhat strict. The teacher training is highly experiential, so we spent much of our time practicing yoga, pranayama, meditation and mantra. My training did not touch much on anatomy, sequencing or theme/dharma weaving and we did very little practice teaching. The only reason I felt comfortable beginning to teach once I returned from India is because I had been practicing yoga for 8 years. But immediately upon returning from India, I enrolled in a 300-hour advanced teacher training which helped to fill in a lot of the gaps that were missing from my initial training.
So my advice to someone considering doing a yoga teacher training in India would be ABSOLUTELY, YES, DO IT! But plan on doing an additional training in the U.S. if your intention is to start teaching. While it is important to honor the traditional and ancient teachings that created this incredible practice, I believe it is also our natural order as humans to expand, evolve and grow and it is important for us as yoga teachers to be able to somewhat "modernize" the teachings to make sense in today's world.
Namaste!