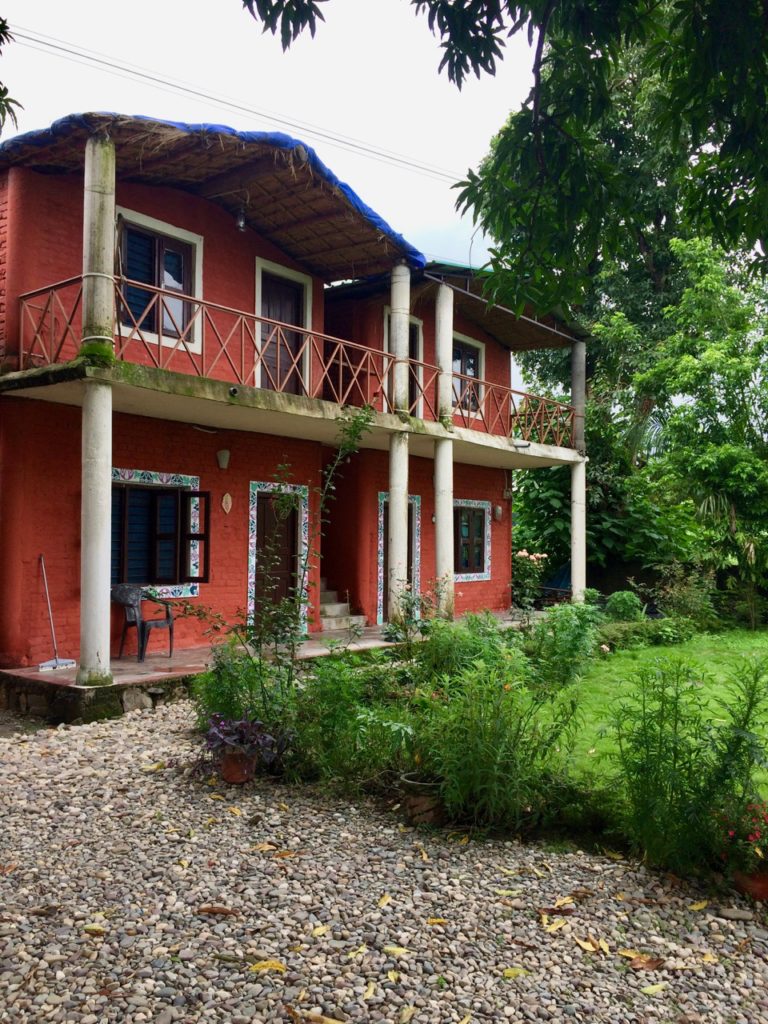 My original plan was to be in the city of Rishikesh for my entire five-week stay, focusing on my yoga and meditation practices. However, a couple weeks into my trip I learned of something that altered my plan a bit. During the monsoon season, pilgrims from the Himalaya mountains come down to Rishikesh for religious ceremonies and rituals that last a couple of weeks. It can become quite crowded, chaotic and sometimes unsafe for foreigners. I had heard of this from a friend before booking my trip but when I wasn't able to find any information about it through researching online, I decided to take the risk and book my trip anyway. By the time I heard of it again while I was in Rishikesh, I had made a few local friends so I began asking around and even they said they leave the area during this time. Many shops close down and the city is essential overtaken by the pilgrimage. There were other religious holidays going on during my first week in Rishikesh and it was quite crowded then as well, so after some thought I made the decision to relocate for the final week of my trip. I wasn't sure where to go but happened to mention it to another girl at the ashram who had just arrived from Nature Care Village, a family's guesthouse on the outskirts of the city. She spoke very highly of the place and after some research I decided to book my stay there.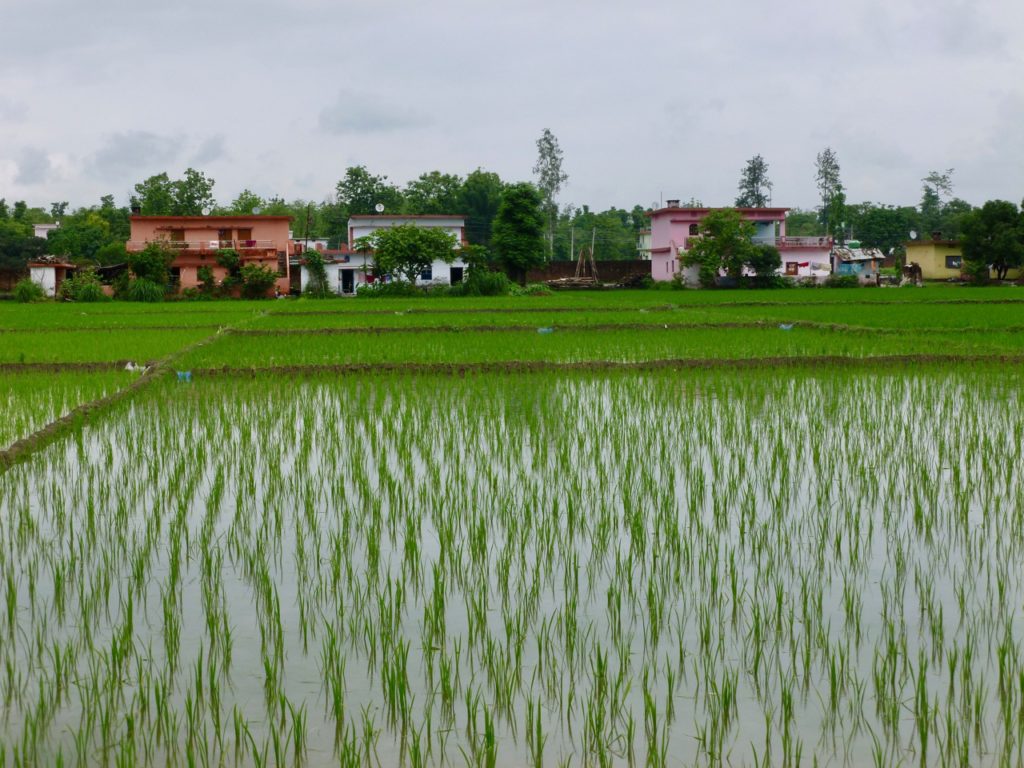 The guesthouse is located in a rural area that doesn't even show up on Google maps. My taxi driver seemed familiar with it when I booked with him, but when we got to the area he had some difficulty finding it. We pulled over at least ten times to ask for directions and it took twice as long to get here than it should have. Upon arriving, I learned that even though they have several rooms, this is their slow season and I was the only person staying with them for the week. Initially this was quite intimidating, I had just gone from staying in an ashram with a roommate, constantly meeting new friends and travelers to literally being the only foreigner in the middle of a rural Indian village surrounded by farmland, national forest and the Ganga river. But I am nearing the end of my stay here, and it has actually been quite peaceful and enjoyable.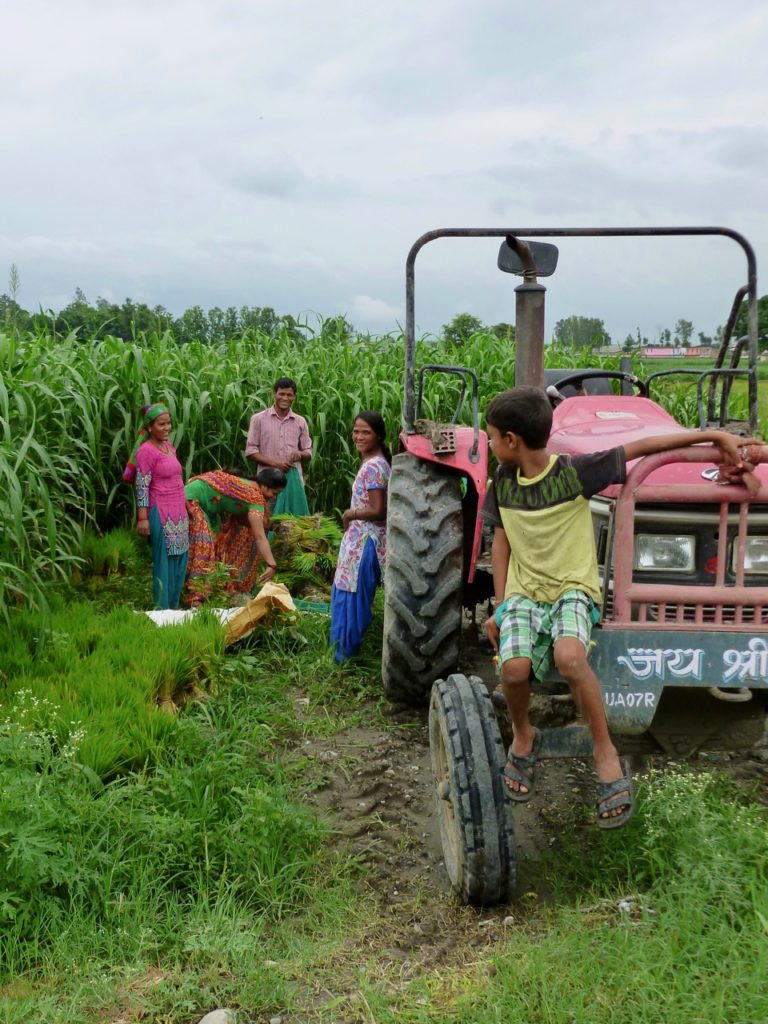 I have had lonely times, but it has been helpful knowing that I am near the end of my trip and will be returning home soon. And the alone time has been good. It has given me the opportunity to work through some of my struggles with loneliness and reconnect with the part of me that really appreciates being alone. I have spent a lot of time reading, writing and taking long walks by myself. I kept myself pretty busy while I was at the ashram between the yoga and other ashram activities, getting out and walking around the city and doing a bit of work for a part-time job I have at home. I hadn't really given myself the permission and time to just chill out and relax until I came here. I have been sleeping in and I am sleeping much deeper and better than I was at the ashram. The location reminds me a lot of Bali Silent Retreat, and just like when I was there I have been having a lot of vivid dreams involving people from different times in my life even as far back as elementary and middle school. I'm not sure if it is the energy here, or perhaps just the fact that I am giving my mind the opportunity to slow down a bit. Jag, the 24-year old Indian man who runs the guesthouse says that it is from the water. The water here is pumped from a well which is supplied from runoff. I was slightly nervous about drinking the water at first but the girl from the ashram said it was fine and it has actually been much better than the filtered water I was drinking at the ashram. The taste is better and I have had much less trouble with my belly. He says that the water is very healing and I can't really argue.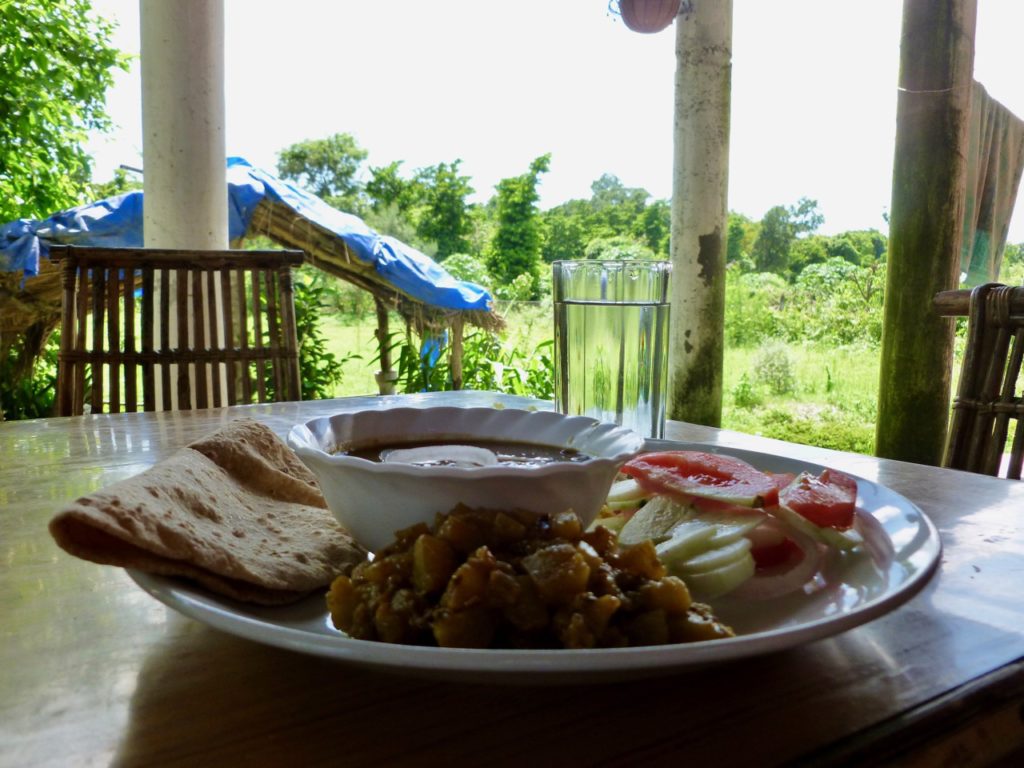 The food is incredible. The house is surrounded by organic farmland where most of the food served is grown all the way down to the rice and wheat. The milk comes from the cows and water buffalo that live in the area. Jag's mother Karma, a sweet Indian woman who speaks limited English cooks all the meals. Everything I have eaten has been delicious and I can taste the freshness and purity in it. And they feed me well. There are always several options served at every meal and much more than I could ever consume. Every morning with my breakfast I am served homemade yogurt made from fresh water buffalo milk along with the best chai masala tea I have ever tasted. The lunches and dinners always include rice, homemade chapatis, some sort of dal or bean dish and usually a cooked and a fresh vegetable. Every couple of days there is a dessert with dinner, the other night was homemade custard from water buffalo milk…absolutely out of this world.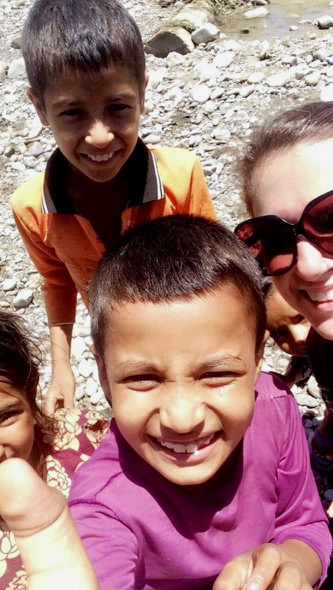 Hiking around the river when the weather allows has been very peaceful and healing. I have also walked around a bit in the nearby village which has been quite interesting. The people live very simply and do not have much. Most of them seem to have very little education and speak very little English other than "hi" and "bye." And their reactions to me are mixed – some seem excited to see me, smiling, waving and saying hi while others greet me with blank stares or straight up nasty looks. The worst looks I have ever gotten in my life actually. I am finding that the men are the ones who don't seem to like me. Most of the women, children and teenage boys seem to love me however. Yesterday as I was walking, a small girl came out of a house and started walking with me. We exchanged a few words but I don't think she spoke much English. She pointed out a few places, saying things in Hindi that I didn't understand. I stopped at one point to take a photo and she waited patiently for me. She called me "sista" several times. Eventually after walking together for about 10 or 15 minutes, she arrived at her destination and we said our goodbyes. It was an extremely sweet experience.
I suspect that underneath the stares and nasty looks there is fear. It is a strange feeling to be feared, but I can only imagine what they must think of us. Most of them will never leave this village, let alone the country. They will never have the independence and freedom to live life on their terms; their lives are lived in devotion to their families, jobs and religions. Jag said that being here is the "true authentic Indian experience" and I would have to agree this is very different from my experience in the city. I am so grateful that my trip ended up taking this detour. I enjoyed being at the ashram meeting people and doing yoga, but this is the experience I am always searching for when I travel to countries like this. This is the perspective that makes me really see and appreciate what I have at home. To see things through a different lens and have a greater appreciation for my independence and freedom to be the woman that I want to be and live the life that I want to live. And to love my home that much more and hopefully take things for granted less. This was the perfect way to wrap up my experience in India. I can't wait to return to my home and loved ones…until next time, that is.